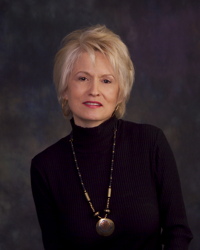 Elizabeth Shown Mills is a historical researcher and writer who has spent her life studying neglected Southern cultures–particularly Anglo-Celtic frontiersmen, French and Spanish Creoles, Native Americans, and the enslaved. A popular lecturer and author of numerous works on generational history, Elizabeth is past president of both the American Society of Genealogists and the Board for Certification of Genealogists.
Selected Bibliography
Books
Evidence Explained: Citing History Sources from Artifacts to Cyberspace. Baltimore: Genealogical Publishing Co., 2007. 885 pp. Awarded Library Journal's designation: "Best Reference Work 2007." 3d ed. rev., 2017.
Professional Genealogy: A Manual for Researchers, Writers, Editors, Lecturers, Librarians. Baltimore: Genealogical Publishing Co., 2001. 657 pp. Editor and lead author.
The Forgotten People: Cane River's Creoles of Color. Baton Rouge: Louisiana State University Press. Sole author of the revised and greatly expanded 2013 edition, incorporating significant additional research and contextual scholarship since the first edition published 1976 by Gary B. Mills.
Isle of Canes. Provo: Ancestry.com, 2004. Four-generation historical novel chronicling a family of Creole slaves and freedmen, based on my own original research in the archives of U.S., Spain, France, Canada, Mexico, and Cuba.
Cane River Creole Series. 6 volumes. Translated abstracts from the colonial French and Spanish records.
Journal Articles
"Frontier Research Strategies—Weaving a Web to Snare a Birth Family: John Watts (ca. 1749–ca. 1822)." National Genealogical Society (NGS) Quarterly 104 (September 2016): 165–90.
"Testing the FAN Principle Against DNA: Zilphy (Watts) Price Cooksey Cooksey of Georgia and Mississippi, 1780–1857." NGS Quarterly 102 (June 2014): 129–52.
"Demythicizing History: Marie Thérèse Coincoin, Tourism, and the National Historical Landmarks Program." Louisiana History 53 (Fall 2012): 402–37.
"Documenting Birth, Parentage, and Origin of a Slave (Marie Thérèse Coincoin, 1742–1816): A Test of Oral History." NGS Quarterly 96 (December 2008): 245–66.
"Isle of Canes and Issues of Conscience: Master-Slave Sexual Dynamics and Slaveholding by Free People of Color." The Southern Quarterly: A Journal of the Arts in the South 43 (Winter 2006): 158–75.
"Which Marie Louise is 'Mariotte'? Sorting Slaves with Common Names." NGS Quarterly 94 (September 2006): 183–204.
"Genealogy in the Information Age: History's New Frontier?" NGS Quarterly 91 (December 2003): 260–77.
"Roundabout Research: Pursuing Collateral Lines to Prove Parentage of a Direct Ancestor—Samuel Hanson of Frontier Georgia." NGS Quarterly 91 (March 2003): 19–30.
"Quintanilla's Crusade: 1775–1783: 'Moral Reform' and Its Consequences on the Natchitoches Frontier." Louisiana History 52 (Summer 2001): 277–302.
"Mother, Thy Name is Mystery! Finding the Slave Who Bore Philomene Dorat." Reassembling Female Lives: A Special Issue of the National Genealogical Society Quarterly, NGSQ 88 (September 2000): 201–24, with Rachal Mills Lennon.
"Working with Historical Evidence: Genealogical Principles and Standards." NGS Quarterly 87 (September 1999): 165–84.
"Deliberate Fraud and Mangled Evidence: The Search for Anne Marie Philippe's Fictional Family." The American Genealogist 75th Anniversary Commemorative Issue, The American Genealogist 72 (July 1997): 353–68.
"Applying the Preponderance-of-the-Evidence Principle to a Southern Frontier Problem: William Medders of Alabama." NGS Quarterly 82 (March 1994): 32–49.
"Identifying Jean Baptiste Derbanne of Louisiana's Natchitoches Militia, 1780–82: Participant in the Gálvez Campaigns of the American Revolutionary War Era." The American Genealogist 68 (January 1993): 33–45. Separates identities of two same-name Creole males in colonial Louisiana.
"In Search of 'Mr. Ball': An Exercise in Finding Fathers." National Genealogical Society Quarterly 80 (June 1992): 115–33; coauthored with Sharon Sholars Brown, CG.
"Unraveling Balls of Yarn: Lessons in the Use of a Skeptical Eye (as Taught by William Bartholomew Ball and William F. Ball, Esq.)." Genealogical Journal 19 (1991): 1–21.
"The Search for Margaret Ball: Building Steps over a Brick-Wall Research Problem." National Genealogical Society Quarterly 77 (March 1989): 43–65.
"Backtracking Hardy Hunter: A Case Study in Genealogical Problem Solving via the Preponderance of Evidence Principle." Association of Professional Genealogists Quarterly 1 (Spring 1986): 1–19; and (Summer l986): 1–19.
"Anderson of Buckingham: A Case Study in Family Reconstruction within a 'Burned County,' Part II: Parental Family of William Anderson (1788–1852)." The Virginia Genealogist, 30 (July–September 1986): 174–87; and (October–December 1986): 263–73.
"Spanish Records: Locating Anglo and Latin Ancestry in the Colonial Southeast." NGS Quarterly 73 (December 1985): 243–61.
"Mézières, Trichel, Grappe: A Study of Tri-Caste Lineages in the Old South." The Genealogist 6 (Spring l985): 3–84.
"The Genealogist's Assessment of Alex Haley's Roots." NGS Quarterly 72 (March 1984): 35–49; coauthored with Gary B. Mills.
"A Husband for Phoebe Jefferson." The Virginia Genealogist 29 (April–June 1985): 83–104.
"Academia v. Genealogy: Prospects for Reconciliation and Progress." NGS Quarterly 71 (June 1983): 99–106; coauthored with Gary B. Mills.
"Anderson of Buckingham: A Case Study in Family Reconstruction within a 'Burned County,' Part I: Family of William and Mary (Polly) C. Anderson." The Virginia Genealogist 27 (January–March 1983): 3–19. Reprinted in Genealogy: Journal of the Indiana Historical Society 78 (July l983): 1–10.
"Social and Family Patterns on the Colonial Louisiana Frontier." Sociological Spectrum 2 (July–December l982): 233–48.
"Slaves and Masters: The Louisiana Metoyers." NGS Quarterly 70 (September l982): 163–89.
"Roots and the New 'Faction'—A Legitimate Tool for Clio?" The Virginia Magazine of History and Biography 89 (January 1981): 3–26; coauthored with Gary B. Mills.
"Louise Marguerite: St. Denis' Other Daughter." Southern Studies 16 (Fall l977): 321–28.
Websites
• Evidence Explained: Historical Analysis, Citation & Source Usage (https://evidenceexplained.com)