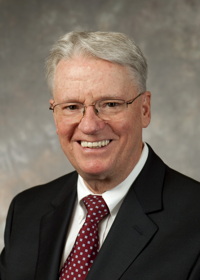 Kip Sperry is Professor Emeritus of Family History, Department of Church History and Doctrine, Brigham Young University, Provo, Utah, where he taught family history and American and LDS genealogical research methods and sources for over twenty-five years.
Kip was born in Chardon, Geauga County, Ohio, and holds a graduate degree and two undergraduate degrees in American genealogy from BYU. He was awarded the 2014 Harvey B. and Susan Easton Black Outstanding Publication Award from BYU and was presented the Richard Lloyd Anderson Research Award from BYU in 2003. He formerly worked at the Family History Library and the Church History Library in Salt Lake City. His family history interests include the New England states, Midwestern states, Ohio, Western Reserve in northeastern Ohio, American and English paleography, Isle of Man, and Great Britain.
His national awards include Fellow, American Society of Genealogists; Fellow, National Genealogical Society; and Fellow, Utah Genealogical Association. He is an elected life member of the National Genealogical Society and has received a Certificate of Appreciation from the American Society of Genealogists in October 2013, National Genealogical Society President's Citation, National Genealogical Society Distinguished Service Award, National Genealogical Society Award of Merit, Utah Genealogical Association Annual Award, and Utah Genealogical Association Distinguished Service Award. He is an Accredited Genealogist in the Midwestern states with the International Commission for the Accreditation of Professional Genealogists. Kip is author of Nauvoo and Hancock County, Illinois: A Guide to Family History and Historical Sources (2014), Genealogical Research in Ohio, 2nd ed. (2003), and is author of other family history books, chapters, and journal articles. He has lectured at national, regional, state, and local family history conferences and seminars.
Kip is married to Elisabeth Anne Pearson. They have one son, Daniel Kip Sperry, MD, who graduated in 2011 with his medical degree from the State University of New York, Upstate Medical University, Syracuse, New York, where he specialized in family medicine. He was a resident physician at McKay-Dee Hospital Center in Ogden, Utah, for three years and is currently a physician with Intermountain Health Care in Draper, Utah, south of Salt Lake City.
Website:
www.kipsperry.com