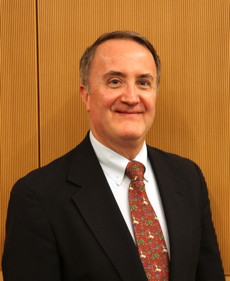 Michael Francis Dwyer (b. 1959) earned a B.A. in English and History from Boston College in 1981, then spent a year in graduate theological studies. He completed an M.A. in English at Middlebury College's Bread Loaf School of English in 1994. Since 1983, he has been teaching Vermont high school students American Studies, English Literature, Advanced Placement European History, and a variety of Humanities electives. Vermont's Department of Education named him 2004's Teacher of the Year.
Childhood experiences with his family in Fall River, Massachusetts, inspired a lifelong love of literature, history, and genealogy. Michael views his research and writing, especially on the topics of Irish and French–Canadian immigration, as a natural outgrowth of his teaching. Often called upon to speak to genealogical and historical societies, Michael served as State Historian of the Vermont Society of Mayflower Descendants from 1986 to 1996. Appointed Editor of Vermont Genealogy in 2016, he is also Assistant Editor of Rhode Island Roots and a Contributing Editor to The Maine Genealogist and The American Genealogist. He welcomes correspondence but does not accept clients.
Selected Articles:
with Susan L. Valley, "Augustin Davignon and André Brault dit Chaillot, Brothers-in-Law of Winooski Falls, Vermont," New England Historic Genealogical Register 170 (2016), 45–57.
"Edward Chiott Alias Ryan: Burlington's Daring Desperado," Vermont Genealogy 19 (2016), 97–104.
"The Ledoux/Sweet Family of Québec, Vermont, and Pawtucket, R.I.," Rhode Island Roots 41 (2015), 170–190, 42 (2016), 28–45.
"Revisiting the Shocking Legend of Fayette, Maine: Emeline (Bacheller) (Chamberlain) Gurney," in The American Society of Genealogists 75th Anniversary Volume (1940–2015) (Saline, Mich., 2015), 91–110.
with Aaron Ginsburg, "A Shtetl Transplanted: The Adelson, Kusinitz, and Ginsburg Families of Dokshitz, Russia and Newport, R.I.," Rhode Island Roots 41 (2015), 114–137.
"Frank Willis of Manitowoc, Wisconsin: Waif of the Burned Steamship Niagara," The American Genealogist 87 (2015), 190–192.
"His Father's Sole Support: Private Silas Campbell, Company F, Second Maine Cavalry Regiment," The Maine Genealogist 37 (2015), 51–59.
"Mercy Hamblin, Wife of Martin Freeman of Sandwich, Middleboro, and Rochester, Massachusetts: An Exploration Among Sandwich Fish," The American Genealogist 87 (2015), 51–64.
"An Invented Life: Lilla Dale Wunderlich of Massachusetts, New York, Shanghai, and Germany," American Ancestors Magazine 15 (2014), 46–50.
"Nancy Dady, Wife of David Torry, of Sudbury, Vt., and Montréal, Canada," Vermont Genealogy 18 (2014), 159–64.
"A Tale of Tangled Pennell Lines: From the Isle of Jersey, to Gloucester, Massachusetts, and Maine," The Maine Genealogist 36 (2014), 99–122.
"An Ulster Transplant: Thomas Cammett of Salisbury, Massachusetts and Warwick, Rhode Island," Rhode Island Roots 40 (2014), 3–22, 59–74.
"Edward Paine of Block Island, Rhode Island: His 'Sole Heir at Law,'" The American Genealogist 86 (2013), 20–26.
"The Puzzle of Garçon Mineur: Joseph Posé/Pauzé of Biddeford and Saco, Maine," The Maine Genealogist 35 (2013), 99–118.
"'Annet' Dodge, Saint and Pioneer," Rhode Island Roots 39 (2013), 151–54.
with Cherry Fletcher Bamberg, "Margaret (Ward) (Bradley) Wrightington," Rhode Island Roots 38 (2012), 169–83, 39 (2013), 1–14, 57–84.
"Ellen Flynn, Speeder-Tender," American Ancestors Magazine 14 (2013), 30–32.
"The Path to Edward Bird: A Story of Identity, Assimilation, and Discovery," American Ancestors Magazine 13 (2012), 28–32.
"George Thrasher: A Hebron, Maine, Interlude," The Maine Genealogist 34 (2012), 35–42.
"Letters from Worlds Apart: Brennan‒O'Dwyer Correspondence," Rhode Island Roots 37 (2011), 169–184.
"Another Mrs. Silas Hall: Lucy (Randall) (Miller) (Marshall) Hall and Her Family," The Maine Genealogist 33 (2011), 99–121.
"Hart-Cassidy Migration from the Parish of Kilmovee, County Mayo, to Fall River, Massachusetts," The New England Historical and Genealogical Register 165 (2011), 100–20.
"Mary Rhodes: An Arduous Journey to Westerly," Rhode Island Roots 37 (2011), 17–27.
"Lucy Besse: to Maine and Back?," The Maine Genealogist 32 (2010), 177–83.
"Where Is George? Tracking the Vallée/Valley through Vt. and Qué.," Vermont Genealogy 15(2010), 51–57.
"The Return of Reverend Silas Hall," The Maine Genealogist 31 (2009), 147–65.
"From Cahirdaniel to Newport: A Study of Three O'Mahony Families," Rhode Island Roots 35 (2009), 57–80.
"Dwyer Families of Newport in 1900," Rhode Island Roots 33 (2007), 1–22.
"Asa Waters: Testimony of a Hidden Lineage," Mayflower Quarterly 72 (2006), 314–17.
"John Mitchell of Block Island: Lost or Found," Rhode Island Roots 28 (2002), 53–64.
"Hannah (Lewis) Peck, Daughter of Hannah Gorham," Mayflower Quarterly 60 (1994), 19–22.