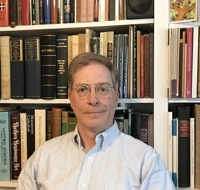 Nathaniel Lane Taylor (b. 1965) of Barrington, Rhode Island, is Editor and Publisher of The American Genealogist. He holds a Ph.D. in medieval European history and taught medieval and modern history at Harvard (where he was a resident dean) and elsewhere for twelve years. Historical interests include the history of genealogy in pre-modern and modern times. Genealogical interests range from medieval Spain, France, and Britain, to colonial New England and Virginia. He maintains a website and blog at nltaylor.net, and can be reached by e-mail at nltaylor@nltaylor.net.
Selected Publications:
An American Taylor Family: Descendants of Richard Taylor (d. 1679) of North Farnham Parish in the Northern Neck of Virginia for Seven Generations (1992-2015).
"The Banisters of Boston and Newport, with the Royal Ancestry of Frances Walker, wife of Thomas2 Banister" [by Nathaniel Lane Taylor and Michael Andrews-Reading], New England Historical and Genealogical Register 165(2011):85–99, 206–22.
"The False and Possibly True English Origins of Richard Taylor of Old Rappahannock County, Virginia," The American Genealogist 83(2009):161–73, 278–91.
"Genealogist John Farmer Discovers his Ancestry: The Warwickshire Family of Edward1 Farmer, Isabel1 (Farmer) (Wyman) (Blood) Green, and Thomas1 Pollard, of Billerica, Massachusetts," New England Historical and Genealogical Register 160(2006):261–72; 161(2007):62–72, 146–55, 209–22, 289–99.
"Testaments, leur validation, et ordre public en Catalogne et Languedoc au Moyen Age (IXe-XIIe siècles)," Annales du Midi 118(2006):447–51.
"Women and Wills in Catalonia: Sterility and Testacy in the Eleventh and Twelfth Centuries," Mediaeval Encounters 12(2006):87–96.
"Another Husband for Mary (Phippen) (Wallis) (Morgan) Black: Samuel2 Morgan (Robert1) of Beverly, Mass" [by Nathaniel Lane Taylor and John Fipphen], New England Historical and Genealogical Register 160 (2006), 99-100.
"The Disgruntled Billerica Militia of 1755," New England Ancestors 7.1 (Winter 2006), 35-37.
"Kin and the Courts: Testimony of Kinship in Lawsuits of Angevin England," Haskins Society Journal 15(2005):55–72.
"Inheritance of Power in the House of Guifred the Hairy: Contemporary Perspectives on the Formation of a Dynasty," in The Experience of Power in the Middle Ages: Essays in Honor of Thomas N. Bisson, ed. Robert F. Berkhofer III, Alan Cooper, and Adam J. Kosto (Aldershot, Hampshire, 2005), 129–51.
"Thoughts on the Robessart Tomb," Foundations 1.4(2004):241–45.
"A New Medieval Genealogical Journal, Foundations, and the 'Foundation for Medieval Genealogy': a Review Article," The American Genealogist 78(2003):138–42.
"Monasteries and Servile Genealogies: Guy of Suresnes and Saint-Germain-des-Prés in the Twelfth Century," in Genèse médiévale de l'anthroponymie moderne, tome 5.1: Serfs et dépendants au Moyen Âge, ed. Monique Bourin and Pascal Chareille (Tours, 2002), 249–68.
"Roman Genealogical Continuity and the 'Descents-from-Antiquity' Question," The American Genealogist 76(2001):129–36.
"Three Calebs and a 'Lara': Untangling Gloucester Lanes," NEHGS Nexus 16(1999):106–109.
"Notes on the Ancestry of Sancha de Ayala" [by Nathaniel Lane Taylor and Todd A. Farmerie], New England Historical and Genealogical Register 152(1998):36–48.
"King David, Saint William, and Makhir: a Controversial Medieval Descent," The American Genealogist 72(1997):203–21.