Editors: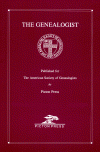 Charles M. Hansen, Col., USA (retd.), FASG,
Sausalito, California
and
Gale Ion Harris, Ph.D., FASG,
East Lansing, Michigan
The Genealogist is one of the most prestigious journals in the field of genealogy. It publishes high-quality genealogical articles including single-family studies, compiled genealogies, and articles that solve specific problems. It provides a forum for scholarly articles on diverse eras and populations which, for reasons such as length, may not fit in other publications, but which serve as models of genealogical scholarship and in-depth analysis in their various fields. Shorter articles are also welcome.
In 1980 The Genealogist was founded by Dr. Neil D. Thompson, FASG, who served as its editor for nearly two decades. In 1997 ownership of The Genealogist was transferred to The American Society of Genealogists, who have maintained a publication schedule of two issues per year, in the spring and fall, with each issue containing a minimum of 128 pages. From 1997 (vol. 11) to 2009 (vol. 23) The Genealogist was published and distributed by Picton Press. Since Vol. 24, No. 1 (Spring 2010), The Genealogist has been published and distributed directly by The American Society of Genealogists.
For subscription and article submission information, contents of recent issues, and sample articles in their entirety, please follow the appropriate submenus above.
"It is heartening to witness the renaissance of a great genealogical journal. Expertly edited and handsomely produced . . . a welcome addition to any genealogist's library." — The New England Historical and Genealogical Register

"We strongly recommend it." — The American Genealogist

"We look forward eagerly to future issues of The Genealogist—and only wish it were a quarterly!" — The New York Genealogical and Biographical Record